Is Andy Rubin's Essential Phone a Flagship Killer?
August 11, 2017
1736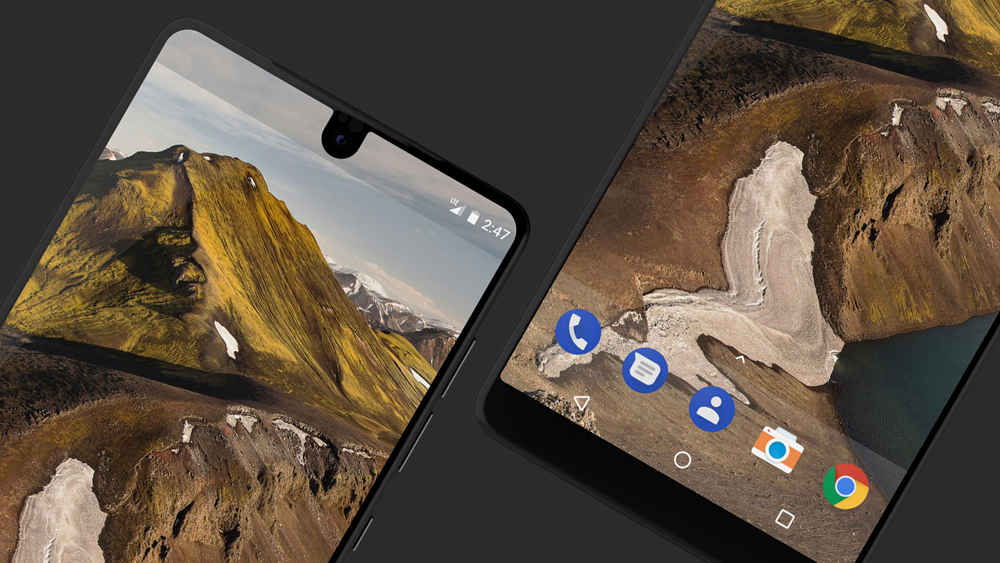 While popular online phone speculations seem to cover the iPhone 8 in majority, a different phone with a unique story of simplistic, clutter free design and engineering has caught the eye of many. The co-creator of Android, Andy Rubin, formed a company earlier this year and has subsequently announced a flagship smartphone called the Essential Phone.


From what many thought may never happen or at least would be significantly delayed, recent tweets directly from the influential engineer showing the Essential in production have shunned negative opinion and it might be here sooner than we think. Combined with confirmed investment from Amazon and Tencent, the release seems to be coming a reality, with the official release date set to be announced next week.


We are in full mass production, ramping up to deliver your Essential Phone. Find out where you can get yours next week! #thisisessential pic.twitter.com/CYrhTMSt1g

— Andy Rubin (@Arubin) August 9, 2017


The Screen
The screen is a nearly bezel-less 5.71 inch display, wrapping around the front facing camera (more on that later). It features Gorilla Glass 5 so it's going to be really difficult to scratch. The aspect ratio of 19:10 results in a resolution of 2560 by 1312. It's a slightly unconventional aspect ratio but we think it will sit nice in the hand and could complement the refined design theme of the phone as a whole.

No headphone jack
The Essential adds itself to the league of phone manufacturers who have left the headphone jack behind. And with more choice and affordability available on the market for Bluetooth wireless earbuds, who could blame them. We hope this leaves more room for other modern features and an ultra sleek design like other leading manufacturers.

Tough as nails
Essential is saying that they will use ultra-tough materials including ceramics and titanium for the main body of the phone. Essential are so confident they are saying there is no need to buy a case for this phone, with some concrete drop tests performed and showed on their website. This is particular feature is a clear one-up on industry leaders like the iPhone and Samsung which uses an aluminum casing – more malleable and prone to dents without a case.
Waterproof feature not confirmed
If it's being made of high quality materials, it would be expected that it would also be waterproof. It's possible that this is something that will be announced in the future, but at the time of writing, we haven't heard anything about this. The Samsung Galaxy S8 being IP68 certified was a key focus of their launch campaign and could be a deciding factor when choosing your next flagship smart phone.

The hardware specifications
The Essential is set to feature 128 gigabytes of onboard storage, combined with 4 Gb of RAM and a Qualcomm Snapdragon 835 chipset platform. This was only released earlier this year, so it's going to work well with the 13 megapixel rear facing camera. This has been apparently been paired with a second monochrome sensor which is said to increase the quality of the pictures you take with that camera, particularly in low light conditions. The front facing camera is 8 megapixels and is designed to handle recording 4k video. It's 3,040mAh battery offers a fair size in comparison with other flagships and can benefit from Quick Charge technology with thanks to the Snapdragon 835 processor.

No SD Card Slot
Some might say that if you can fill up 128Gb on your phone, you've got a problem. However, set to be able to record in 4K, that might be easier than you think.

We're slightly disappointed not to see a built-in SD card slot, but then again, focus seems to be on simplicity and removing clutter both inside and outside the phone. Perhaps now is the time to upgrade your cloud storage if you haven't done so already.

Standard Android OS
Most Android phones have additional programs (or bloatware) added by the manufacturer so that you use their software. Essential is saying that they are going to use the stock standard Android OS. Ideally, this means that the Essential phone will run faster and will be updated sooner than other phones. This touches on the core message of Essential 'making all devices, even those we don't make ourselves, play well together'.

The cost
Out of the box, it's set to be $699. We can't deny that isn't steep for a first release, but perhaps Rubin's message of a phone set to remove the clutter and interface better with other devices is worth it.

Modular design
Essential have looked at what Motorola did with their mods for the Moto Z phones and thought that it could work. There are two magnetic connection points on the back of the Essential Phone for modular accessories. The first is for a charging dock, the second is for a 360ºcamera that can be ordered with the pre-orders. Essential is planning on allowing third parties to make their own Essential accessories that will use the magnetic connectors.

Our overall thoughts
It's hard to say our final thoughts considering we have not got our hands on an Essential phone just yet, and a few uncertainties still need to be cleared up about this potential flagship killer.

What is clear from Rubin's values is that Essential are trying to shake up the phone industry to create a phone that interfaces with all your devices hassle-free and easily assists your everyday life without any trouble.

Will you be buying an Essential phone? Tweet us, and let us know your thoughts!